---
Disclosure :
This site contains affiliate links to products. We may receive a commission for purchases made through these links.
---
Brussels Sprout Continuity Collection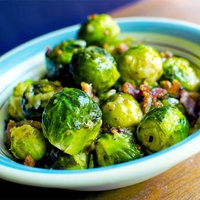 Brussels Sprouts Plants – Continuity Collection A superb collection of delicious sprouts! The Brussels Sprouts plants 'Continuity Collection' contains three outstanding brussels sprout varieties that will harvest from October to February. You don't have to have a large vegetable garden to grow your own. Even the smallest patio or balcony can will accommodate a few containers that will give you a bumper crop of delicious brussel sprouts! Just in time for the festive season, why not try these brussel sprouts steamed with smoky bacon or pancetta. Growing Brussel Sprouts Transplant when large enough to handle allowing 60cm (24) between plants each way. Prefers full sun, brussels sprouts plants also perform best when firmed in well, this prevents 'wind-rock' where the sprouts can split or 'blow'.