---
Disclosure :
This site contains affiliate links to products. We may receive a commission for purchases made through these links.
---
Calatheas Zebrina 12cm Pot x 1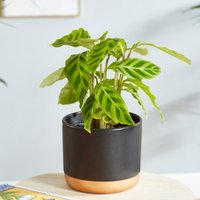 Grown for its lavish velvety foliage, Calathea zebrina makes a luxuriant, exotic focal point in any spot around the house. This tropical perennial bears its stunningly, variegated foliage on upright, softly arching stems. The leaves have a deep purple underside which creates a stunning contrast of colour. Calathea zebrina will grow well in a warm, humid room. It is a fantastic edition to any display of other beautiful foliage plants in a conservatory or grow it in a bright kitchen or bathroom to brighten up a quiet corner. Height and spread: 90cm (36). Keep in a room with a constant temperature of above 16C (60F) and away from radiators or cold draughts. Ideally position it in a bright room but not in direct sunlight as this could scorch the plant. Water regularly in the spring and autumn using tepid rainwater if that is possible. Ensure the pot can drain well after each watering. In the winter reduce the amount of watering but do not allow the compost to completely dry out. It will appreciate some humidity so place it on top of pebbles and water. As the water evaporates this will produce the humidity around the plant that it needs. Please Note: Some houseplants are toxic to pets if ingested, please seek advice from a veterinary professional if you believe it has been consumed. Ensure you take a sample of the plant with you. The size of the plant will differ depending on when in the year it is purchased ? visuals are an indication only.