---
Disclosure :
This site contains affiliate links to products. We may receive a commission for purchases made through these links.
---
Calendula (Organic) officinalis Seeds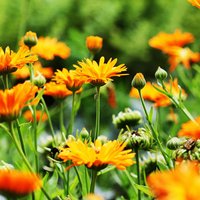 Brighten up your flower beds & containers with these stunning flowers! The Calendula Pot Marigold is a perennial that prefers warmer climates. Despite typically being a short lived perennial, the Calendula Pot Marigold is usually grown as an annual in flower beds and flower borders or decorative containers. Originating from the same family as marigolds, chrysthanthemums and daisies, the Calendula Pot Marigold has that iconic daisy =-like aesthetic but with stunning bright orange colours. Loved by bees, butterflies and other pollinating insects, it's worth knowing that the Calendula Pot Marigold has been produced without the use of synthetic fertilisers or pesticides. These organically certified seeds have been raised in a way that is much better for our soil and the environment. The flowers of the Calendula Pot Marigold can be used to add colouring to rice or in salads. Flowering from June to July and growing to a height of 45cm (18"). And why not try the flowers in a salad? – pick them young for the best taste!