---
Disclosure :
This site contains affiliate links to products. We may receive a commission for purchases made through these links.
---
Cotinus cog. 'Dusky Maiden'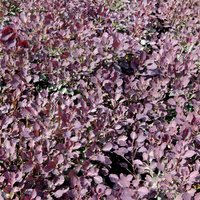 A lot of love and time was devoted to the development of Cotinus coggygria Dusky Maiden. The result is a strong Cotinus with stunning foliage and an exceptionally bushy, well-branched growth habit. Peter Moore, breeder of Dusky Maiden, spent more than a decade on this cross between Cotinus szechuanensis and Cotinus coggygria 'Velvet Cloak'. One striking feature of Dusky Maiden is its bushy, well-branched growth. Unlike other Cotinus varieties, Dusky Maiden will not get leggy and stays more compact. It responds very well to pruning. It will reach a height and width of circa 150cm. Supplied in a 3 litre pot.