---
Disclosure :
This site contains affiliate links to products. We may receive a commission for purchases made through these links.
---
Dahlia dalina Maxi Collection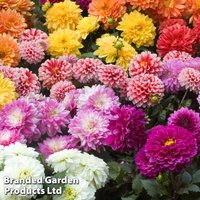 Small in stature but big in bloom, the 'Maxi' range of Dahlias are specifically bred for patio containers but look equally good in borders. The neat, compact plants only reach around 45cm tall, but produce plentiful large, rounded pom-pom flower heads in a range of striking pink, purple and apricot shades from July all the way through to October. Choose this Dahlia Maxi Collection for high-impact, low-effort patio displays for months on end!Dahlia dalina Maxi Collection (12 plugs) contains two plugs of each of the following varieties:Dahlia Dalina Maxi CancunDahlia Dalina Maxi CastiloDahlia Dalina Maxi EmilioDahlia Dalina Maxi MendozaDahlia Dalina Maxi SalinasDahlia Dalina Maxi TampicoHeight: 45cm (18). Spread: 40cm (16).