---
Disclosure :
This site contains affiliate links to products. We may receive a commission for purchases made through these links.
---
Euphorbia Acruensis Cactus 17cm Pot x 1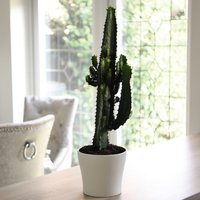 The Desert Candle Cactus is actually a misleading name as it is succulent! A beautiful one all be it where its native homeland of Africa it can grow reaching tree-like proportions! No need to panic that a tree might grow in your house though as the growth can be restricted by its pot size. As it grows the upright stems portray a candelabra effect making it very eye-catching succulent.This stunning plant is ideal for a gift and is low maintenance so anyone can take it on whether it is for a beginner or an expert. Simply position in a well-lit home such as a windowsill or warm conservatory. It will require free-draining soil and can be watered relatively regularly between March and September but ensure that the soil dries out a little in between. It is also recommended to feed with a fertiliser during those months. In the winter reduce the watering allowing the soil to dry out until the spring. Height: 120cm (48). Spread: 60cm (24). Some houseplants are toxic to pets if ingested, please seek advice from a veterinary professional if you believe it has been consumed. Ensure you take a sample of the plant with you. The size of the plant will differ depending on when in the year it is purchased – visuals are an indication only.