---
Disclosure :
This site contains affiliate links to products. We may receive a commission for purchases made through these links.
---
Grafted Tomato Plants – F1 Honeycomb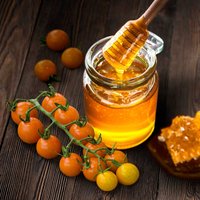 Grafted Tomato Plant – F1 Honeycomb The sweet and juicy cherry tomatoes that came top in our taste test! Move over Sungold there?s a new tomato in town and the Honeycomb even came top of our test. Enjoy heavy crops of these delicious large cherry-sized tomatoes from summer right through to the autumn! Ideal for growing outdoors or in the greenhouse the F1 Honeycomb will produce a steady crop of 150-200 tomatoes on every plant. These large cherry-sized tomatoes are the perfect addition to any summer salad. If you love a homegrown tomato then you will love these. Harvest July-October. Height 150-200cm (59-79); spread 40-50cm (16-20). Supplied in 10cm pots. What?s so good about grafted veg plants?  Grafting onto specific rootstocks, of course, creates bigger, better, more disease-resistant plants with increased yield. Consequently, we believe, the extra vigour which the plant obtains will provide even better protection to late Blight attack, and the plants will grow away from any infection even more rapidly. Grow in the greenhouse or outdoors, little or no heating required. With excellent resistance to soil-borne pest and diseases – No more ring culture or grow bags you simply plant straight in the soil.