---
Disclosure :
This site contains affiliate links to products. We may receive a commission for purchases made through these links.
---
Gripple Plant Support System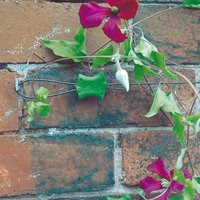 Developed from a commercial vineyard system, the Gripple Plant Support System is simple but outstanding. It comprises a simple push-fit joiner and tensioner, with rollers that grip in one direction but instantly lock in the other, allowing you to quickly and effortlessly tension the UV stabilised, single strand nylon 'wire' between any number of posts or wall 'eyes'. All the parts are non-rusting, so will last for years and can be re-used if required. No more knots! No more sharp ends! No more loose, flapping plant support wires! The Starter Kit comprises 30m (100′) of nylon 'wire' and 4 Gripples. Add-ons available.