---
Disclosure :
This site contains affiliate links to products. We may receive a commission for purchases made through these links.
---
Lily Roselily Collection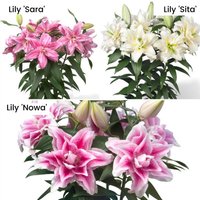 The Roselily brand of Oriental Lilies are so called for their fully double blooms which boast so many petals that they resemble Roses when they begin to open. These luxuriant Lilies are heavily scented, but completely pollen free, so they?re perfectly safe for cats and won?t stain your clothes and fingers. Being pollen-free also has the advantage of an extended flower life so your display will last longer than traditional single lilies. This superb collection brings together 3 varieties from the Roselily range, each with an exquisite form and colour. Perfect for borders, containers or grown as a cut flower. Height: 60cm (24). Spread: 30cm (12). Lily ?Roselily? Collection comprises 2 bulbs each of: Lily ?Nowa? ? Luxuriant double blooms with satin pink petals.Lily ?Sara? ? Double flowers with deep rose-pink petals, each with a contrasting streak of red. Lily ?Sita? ? Gleaming white double blooms with delicate raspberry-red freckles.