---
Disclosure :
This site contains affiliate links to products. We may receive a commission for purchases made through these links.
---
Mulberry Dwarf Bush – Charlotte Russe Standard (Mojo Berry)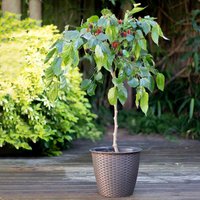 Mulberry Dwarf Bush – Charlotte Russe Standard (Mojo Berry) The Dwarf Mulberry bush is now available as a beautiful tall-stemmed "standard" plant in a 2 litre pot. Mulberries can be difficult to find in supermarkets so why not grow your own? You can have all the joys of growing your own mulberries without the hassle of keeping a large tree. This dwarf, compact variety only reaches a height of approximately 1.5m (compared to normal mulberries that can reach up to 8m in height), making it perfect for any garden space. Moreso the Dwarf Mulberry Bush is self pollinating, fully hardy and fruits on both old and new wood. This means you can be picking Beautifully fresh mulberries within the first year as opposed to the usual 8 or 9 years that it takes most other mulberry plants. Unlike other varieties that only produce fruit over a 3- week period towards the latter end of summer, The Mulberry Charlotte Russe variety can produce mulberries over a very long period of time. Often from May all the way through to September! The Charlotte Russe Dwarf Mulberry bush is an absolute must have for any garden or patio fruit display. Once fruit start to grow this highly decorative plant will certainly be admired by many. Supplied in a 2 litre pot with 40cm standard. (Please note: Decorative pot not included.) In celebration of the long-standing royal connections of mulberries and in recognition of the newest addition to the royal family, we've named this exceptional new variety Charlotte Russe. The Royal Gardens – Introduced more widely than had previously been the case, by James I around 1609, the royal connection of mulberries is still celebrated. The National Collection of over 30 varieties of mulberries is planted in the grounds of Buckingham Palace, Kensington Palace, and Marlborough House. A Royal Dessert – The Charlotte Russe dessert is said by some to have been invented by the French Chef Marie Antoine Careme, who named it in honour of Queen Charlotte, wife of George III. Though not traditionally made with mulberries they certainly would be a good choice!