---
Disclosure :
This site contains affiliate links to products. We may receive a commission for purchases made through these links.
---
Orchid Star Class Apollon in Ceramic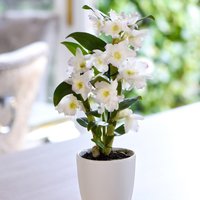 Orchid Star Class Apollon in Ceramic An elegant variety for the home or a special gift! This orchid is a stunningly elegant house plant that makes for a wonderful gift. The upright stems house crowds of crisp white flowers with yellow centres. They have a delicate scent to them allowing them to perfume your home. It will arrive in the ceramic pot also, so it really does make for a lovely gift for a loved one or even a treat to yourself. It may be an orchid, but it is surprisingly easy to care for. When it is flowering it should be homed in a warm spot with a temperature over 15C (60F) but ensure it is kept out of cold draughts and away from radiators. Water regularly with either distilled or rainwater in pot which can drain well. Feed between March and September and provide a more humid atmosphere with regular misting. Cut off any faded flowers after the flowering months but make sure that the stems are left intact. In the winter move away to a cooler home and reduce down the amount of watering and then increase again once the buds start to form and move back to warmer growing position.Height: 100cm (39). Spread: 40cm (16). Some houseplants are toxic to pets if ingested, please seek advice from a veterinary professional if you believe it has been consumed. Ensure you take a sample of the plant with you. The size of the plant will differ depending on when in the year it is purchased – visuals are an indication only.