---
Disclosure :
This site contains affiliate links to products. We may receive a commission for purchases made through these links.
---
Pachyphytum Oviferum (Hard as Rock) 12cm Pot x 1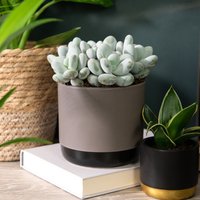 Pachyphytum Oviferum (Hard as Rock) A colour-changing succulent with blue or purple stems! Pachyphytum oviferum is a strikingly eye-catching succulent with beautifully rounded, fleshy stems that look similar to smooth pebbles. Its colour is variable, but is predominantly silvery-blue, and often shows tints of purple too. Commonly known as Moonstones, this easy to care for and low maintenance plant is perfect for a hot sunny spot and will only need occasional watering. It is a perfect addition for any cacti and succulent display adding some extra texture and variety.Grow them in a bright position and they will prefer full sun but can tolerate semi-shade. Pachyphytum is surprisingly hardy, tolerating temperatures down to -6C (20F) as long as the soil is not wet. Feed and water frequently, allowing the compost to dry out between each watering. It is better to be watered from below to avoid droplets damaging the foliage. Ensure that it can drain well after watering to prevent rotting. Height: 10cm (4). Spread: 20cm (8). Please note: Some houseplants are toxic to pets if ingested, please seek advice from a veterinary professional if you believe it has been consumed. Ensure you take a sample of the plant with you. The size of the plant will differ depending on when in the year it is purchased – visuals are an indication only.