---
Disclosure :
This site contains affiliate links to products. We may receive a commission for purchases made through these links.
---
Sweet Potato Makatea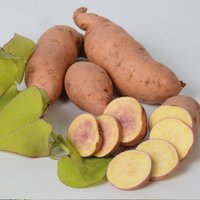 Sweet Potato Makatea Sweet Potatoes are becoming more popular by the day for their delicious taste and versatility in home cooking, and we can see why! They make a great alternative to traditional potatoes with their natural sweetness and are very easy to grow. Sweet Potato 'Makatea' comes from the innovative Treasure Island Series, bred for both flavoursome crops and ornamental qualities. This particular variety boasts orange-flushed tubers and grows unique, heart-shaped foliage that's bright green. The edible leaves can be picked straight from the plant to enjoy with fresh, homemade salads! So not only do you get to enjoy delicious sweet potatoes, but you also get to grow attractive foliage as part of your vegetable garden or patio display, before harvesting the orange-flushed tubers in time for autumn dinners. Height and spread: 1.5m (59).