---
Disclosure :
This site contains affiliate links to products. We may receive a commission for purchases made through these links.
---
Tulip Flaming Parrot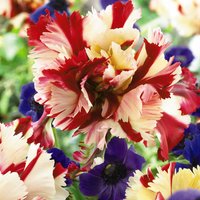 Tulip Flaming Parrot A well-known parrot-type tulip boasting vibrant yellow blooms with scarlet red flames, that slowly open out to form a large bowl-shaped bloom, unraveling the purple-black anthers within. Each petal has a fringed edge, giving a ruffled effect that adds to the flame-like appearance! Ideal for hot-themed beds, borders and patio pots, grow this variety in groups for the ultimate impact. Tulip flowers like these are great for cutting and last for up to 10 days in a vase indoors, so you can enjoy the unique blooms in the home too! Height: 55cm (22). Spread 20cm (8). Culinary note: Some parts of these flowers are edible. However, some people have had strong allergic reactions to Tulip flowers. If touching them causes a rash, numbness etc. then Tulip flowers should not be eaten.