---
Disclosure :
This site contains affiliate links to products. We may receive a commission for purchases made through these links.
---
Begonia Majestic Mixed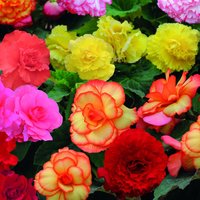 Be sure to find a place in your garden for these super-sized weatherproof begonias!Blooms up to 20cm (8in) across!Now you can have exhibition-quality begonias for your garden at a fraction of the price! We've worked hard to source the very highest spec begonias for an average gardener's budget. These robust begonia plants are available in almost every colour of the rainbow! As a collection they are the ideal option for adding a splash of summer colour to shady corners of the patio. Inbuilt garden performance ensures exhibition quality blooms and plants, no matter the weather, with no need for staking or extra care. Once blooms finish they simply drop from the plant to be replaced with fresh flowers. Ensure summer colour in pots, baskets and borders right through to the first frosts of winter with our regal Begonia 'Majestic Mixed'. Height: up to 45cm (17.5?). Spread 40cm (16).Culinary note: Add the bright coloured petals to sandwiches or salads for a light lemon taste and crisp texture. For more details about edible flowers click here.