---
Disclosure :
This site contains affiliate links to products. We may receive a commission for purchases made through these links.
---
100 Days of Flowering Collection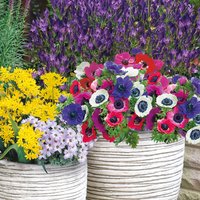 100 Days of Flowering Collection This wonderful flowering collection of bulbs offers a long season of vibrant colour that will bring your garden to life, from spring right through to summer months. These are ideal for spacing around borders and rockeries in masses to create bold spurts of colour. Year after year they will burst from the soil, getting bigger and better with each passing season. Supplied as bulbs. 100 Days of Colour Collection comprises of: Allium Moly – A vigorous little allium bearing dense clusters of star-shaped, golden yellow flowers from late spring. Height: 15cm (6). Spread: 5cm (2). Oxalis Adenophylla – From early summer, the distinctive foliage of this ornamental Shamrock is paired with rosy pink, tubular flowers. Height and spread: 15cm (6). Anemone 'De Caen' – Silky, long-lasting blooms with delicately cupped petals are carried on individual stems in a vibrant mix of bold colours. Height: 30cm (12). Spread: 15cm (6). Muscari – Produces densely packed spikes of tiny deep blue flowers from April to May. Easy to grow, and quickly naturalises to form dense carpets of colour. Height: 20cm (8). Spread: 10cm (4). Brodiaea – A good all-rounder, perfect for planting in containers, borders and rockeries. Produces clusters of double funnel-shaped blooms in a rich bluish mauve.45cm (18). Spread: 10cm (4).