---
Disclosure :
This site contains affiliate links to products. We may receive a commission for purchases made through these links.
---
Bulb Bumper Collection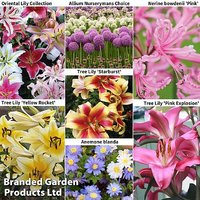 This Bumper Bulb Collection will provide a show-stopping performance for your garden: from jewelled carpets of Anemone blanda in spring, followed by the spherical pom poms of alliums in early summer and then the summer sensation of exotic and showy lilies. For the autumn finale, we?ve included Nerine bowdenii, which sparkles in pink exactly when other flowers are fading. This versatile selection offers something for containers, borders, rockeries and naturalising in grass.Bumper Bulb Collection comprises:  Anemone blanda ?Mixed? 50 bulbs – Daisy-like flowers in shades of blue, pink and white forming a carpet of colour over many weeks throughout spring. Ideal for woodlands, wildlife gardens, rockeries, or planting beneath trees and shrubs. Try naturalising them in lawns for a truly breathtaking effect. Height: 10cm (4). Spread: 15cm (6).Nurseryman's choice Allium Collection 50 bulbs ? Dense globes of starry flowers which make a dramatic statement in the early summer border.Lily Giant Oriental Collection 24 Bulbs ? Exotic, trumpet blooms which smell sensational and make fabulous cut flowers. Height: 180cm (71). Spread: 45cm (18).Tree Lilies: Incredible towering stems adorned with up to 30 perfumed, trumpet-shaped blooms. A stunning focal point for the back of the border and a breathtaking specimen for patio containers. Height: 2.5m (8?). Spread: 60cm (24).Tree Lily ?Starburst? 3 Bulbs – gold with a crimson flush      Tree Lily 'Pink Explosion' 3 Bulbs ? silky pinkTree Lily 'Yellow Rocket' 3 Bulbs – primrose yellow softening to cream edgesNerine (Guernsey Lily) bowdenii ?Pink? 5 Bulbs – Perfect for containers, rockeries or well-drained borders, Nerines are one of the real stars of autumn with their elegant clusters of funnel-shaped blooms which glitter in the sunshine. Height: 45cm (18). Spread: 8cm (3).