---
Disclosure :
This site contains affiliate links to products. We may receive a commission for purchases made through these links.
---
Apple & Pear Tree Duo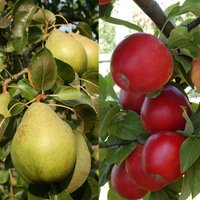 Apple & Pear Tree Duo Collection includes 1 or 2 of each of the following: Apple Santana: A hypoallergenic apple that can be eaten by 75% of people with apple allergies! Good yields of eating apples. Good resistance to apple scab and awarded an RHS Award of Garden Merit. Not self-fertile so needs another variety or another tree close by. Pear Beurre Alexandre Lucas: Buttery soft white flesh sweet flavour. Vigorous grower with good crops. Originated in France, needs another tree to pollinate or one close by.