---
Disclosure :
This site contains affiliate links to products. We may receive a commission for purchases made through these links.
---
Bare Root Perennial Collection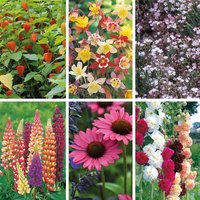 This collection includes fantastic perennials that are perfect for a long lasting colourful garden with a selection of popular hardy perennials which deserve a prime spot in the garden. The blooms of this collection are long-lasting and continue well into autumn and get stronger and larger each year. Undemanding and easy to grow, they're perfect for cutting and bringing indoors for a floral display for years to come. This superb collection is the easy route to a stunning cottage garden scheme. Plant these fabulous perennials in sunny borders for a colourful display that will last all summer long. These top quality plants will establish quickly, increasing in size and performance year after year. Your collection will include the following varieties:  Hollyhock ?Chater?s Double Mixed? – Architectural spires of ruffled, double blooms tower over summer borders adding structure and a riot of colour. Physalis Chinese Lantern – A highly unusual and exotic looking plant that provides garden interest throughout the seasons. In midsummer the plant is covered in small creamywhite flowers, later in the year they produce bright red-orange papery calyces that look like Chinese lanterns. Gypsophila Rosea – Low, creeping plant that makes lovely ground cover for rockeries and gravel gardens. Sprays of tiny pink flowers appear in summer, above the semi-evergreen foliage. Lupin ?Russel Hybrids? – These elegant lupins produce tall spires of tightly packed flowers, that rise above palmate foliage in a magical array of colours. Aquilegia McKana Hybrids – A cottage garden classic, these delightful aquilegia flowers of up to 7.5cm (3?) wide create a bright and uplifting display of vibrant, long-spurred blooms. Echinacea Purpurea – These robust perennials bloom over a long period, attracting bees and butterflies to their daisy-like flower heads. Echinacea purpurea is tough and reliable, coping well on most soils and happily tolerating coastal conditions.