---
Disclosure :
This site contains affiliate links to products. We may receive a commission for purchases made through these links.
---
Bunch of Fresh Real Mistletoe – 10 sprigs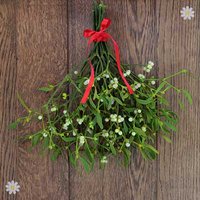 Mistletoe is one of the 'must-have' plants for decorating a Christmas house – and you may well find yourself getting Christmas kisses aplenty if you position it (or yourself) correctly!
Mistletoe is a strange plant – a parasite that lives under the bark of a very few specific host plants – and old apple trees are by far the most common of these.
The white berries appear on female parts of the plant, and they have become an iconic part of Christmas. We will deliver to you a bunch of 10 freshly harvested sprigs of Mistletoe – all with berries – plenty to decorate several locations in the house, and have a sprig left over for the dreaded office party!!