---
Disclosure :
This site contains affiliate links to products. We may receive a commission for purchases made through these links.
---
Cobra 16 Petrol Powered Cultivator Briggs & Stratton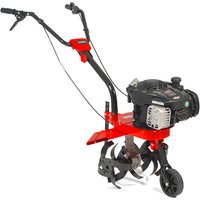 With exceptional performance and style, the Cobra T40B Cultivator is powered by a Briggs & Stratton 500 series engine has a tilling width of 16" and 4 high quality steel tines. Specification: Engine: 140cc Briggs & Stratton 500E Series Rated Speed: 3600min-1 Tilling Width: 40cm (16") Blade Diameter: 280mm Tilling Depth: 250mm Tine Quantity: 4 Weight: 30kg Warranty: 2 Years Expertly powering Cobra Cultivators – The 500 series engine family provides the best-in-class performance in its category. It incorporates the latest engine design technologies ensuring optimal torque and efficiency, resulting in lower emissions. The 500 series powers Cobra petrol garden cultivators. Great for a variety of gardening situations – The T40B Cultivator from Cobra is an extremely versatile tiller, great for a variety of gardening situations. With a 16" working width and 4 high quality steel tines, the T40B can cultivate up to a 250mm depth and performs equally well in both soft and compacted soil. The front transport wheel is invaluable when taking your cultivator to and from the job in hand. Cobra puts the power in your hands – The Cobra T40B petrol cultivator has been designed to make cultivating your garden a simple and effortless task. The ergonomically positioned controls not only make operator use more comfortable, but more importantly, make using Cobra cultivators as safe as possible. 4 Robust steel tines for effortless cultivating – With 4 steel cultivating tines, the Cobra T40B petrol cultivator is well equipped for turning over soil in medium to large gardens. A cultivator is good for loosening the soil in an existing planting area, weeding the area during the growing season and mixing compost into the soil. 16" Working width for getting the job done quicker – The Cobra T40B petrol cultivator has a 16" working width meaning you can get more work done in a shorter time. The right sized cultivator can make short work of preparing soil ready for new plantings and for the mixing in of compost, manure and fertilisers. Get your garden in shape with Cobra cultivators.