---
Disclosure :
This site contains affiliate links to products. We may receive a commission for purchases made through these links.
---
Greenman Ergonomic Digging Tools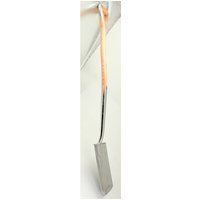 A stylish and well-made tool that has been built with the gardener in mind, the way tools used to be. The ergonomic handle is made of ash, which is tougher, longer-lasting and better-looking than tropical wood, and causes less vibration than fibreglass or metal. Mirror-polished stainless steel head provides better rust resistance and ensure less soil adhesion than a regular paint coating. Ergonomic Digging Spade & Digging Fork – Both feature an extra-long 89cm (36") ash handle which has been steamed (to preserve the natural elasticity and integrity of the wood) and bent to just below the mid-point to give back-saving leverage with less strain. Ideal for those with a bad back or those who don't ever want to have a bad back! Length: 120cm (47.25"), Width: 18cm (7") Weight: 2030g.