---
Disclosure :
This site contains affiliate links to products. We may receive a commission for purchases made through these links.
---
Wisteria floribunda Lavender Lace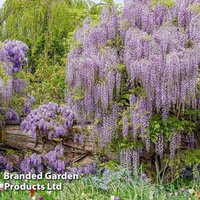 Wisteria 'Lavender Lace' bears one of the longest racemes of any Japanese Wisteria, sporting flower clusters of up 50cm long! The flowers are bicoloured lavender and violet and are highly scented. Height: 8m (26 feet). Spread: 4m (13 feet).A specimen of Wisteria floribunda in full flower is always a stunning sight. These easy to grow climbers are perfect for clambering over a pergola or up a wall in a sunny position with well-drained soil. In May and June they bear pendulous clusters of flowers reaching up to 46cm (18") in length. The flowers appear in succession at the same time as the leaves emerge, which start off bronze in spring and age to green. Additional autumn interest is provided when the leaves turn butter yellow.Plant height and spread is seasonal therefore we list by pot size rather than a defined plant size. The height and spread of the plant delivered will vary depending on the season, meaning arrival images are an indication only.