---
Disclosure :
This site contains affiliate links to products. We may receive a commission for purchases made through these links.
---
Dracaena (Dragon Tree) Fragrans Compacta 19cm Pot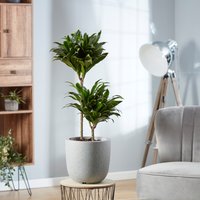 Dracaena (Dragon Tree) Fragrans Compacta A stunning specimen houseplant which can sit in the shade! Dracaena fragrans 'Compacta' is more compact and a slower-growing Dragon Tree. The glossy, rich dark green foliage covers the thick, vertical stems to create a dense and bushy specimen plant. This majestic house plant is easy to grow and will make a beautiful feature in a brightly lit room and can even tolerate a more shaded position with ease. An ideal choice for a bright hallway or conservatory where it will remain neatly compact over many years. Height: 90cm (36). Spread: 60cm (24). Position Dracaena plants in a warm room away from radiators and cold draughts and should be kept in a room with a constant temperature above 16C (60F). For the optimum leaf colour, choose a bright position in good light, but keep away from the glare of strong sun. Dracaena thrives in a wide range of light levels so it can cope equally well in shade. Water regularly between spring and autumn using rainwater if possible and be sure to let the pot drain well after each watering. In winter, reduce watering but do not let the compost dry out. Feed regularly between March and September when they are inactive growth. The lower leaves of Dracaena will naturally die back as it grows. These should be carefully removed, to maintain a tidy appearance. Please note: Some houseplants are toxic to pets if ingested, please seek advice from a veterinary professional if you believe it has been consumed. Ensure you take a sample of the plant with you. The size of the plant will differ depending on when in the year it is purchased – visuals are an indication only.