---
Disclosure :
This site contains affiliate links to products. We may receive a commission for purchases made through these links.
---
Himalaya Highlands (Senecio Archeri Himalaya) 10cm Pot x 1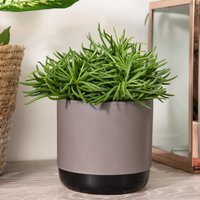 Himalaya Highlands (Senecio Archeri Himalaya) A sun loving houseplant! Himalayan Senecio is a super sun lover – perfect for a south facing windowsill! The narrow, fleshy leaves catch your eye with their blue-green colour, forming a neat and compact plant with an upright habit. Senecio is well known for being particularly easy to grow, so makes for a great gift for any plant lover. Give it plenty of light and just water occasionally and they will thrive with very little effort at all. Keep the Senecio in a warm room away from radiators and cold draughts. It should be in a room with a constant temperature above 16C (60F). For the optimum leaf colour, choose a bright position in full sun. It will require only occasional watering. Allow the soil to dry out and drain well between watering's. Feed it regularly between March and September when it is in active growth.Height and spread: 30cm (12). Please note: Some houseplants are toxic to pets if ingested, please seek advice from a veterinary professional if you believe it has been consumed. Ensure you take a sample of the plant with you. The size of the plant will differ depending on when in the year it is purchased – visuals are an indication only.