---
Disclosure :
This site contains affiliate links to products. We may receive a commission for purchases made through these links.
---
Spathiphyllum (Peace Lily) Torelli Air So Pure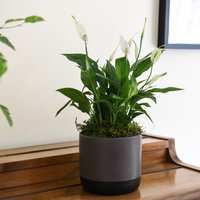 The Peace Lily is an elegant white bloomed tender perennial. They are well known for their air purifying qualities. They can be one of the easiest to care for so are quite a popular house plant. They brighten up the room with their big glossy foliage and elegant white blooms. They enjoy medium light which will help them bloom more. A very common mistake with these perennials is to over water. So, make sure to not water on a schedule but to check the soil before. If it is dry, then water but if there is any moisture in the soil then avoid overwatering. They enjoy some humidity also so spraying the plant and having it on top of some gravel will help increase the humidity it enjoys. Keep away from cold draughts and radiators, ideally keep in a room with a temperature of 18C (65F) to 24C (75F). Their grand glossy leaves can be a dust magnet so as it builds up gently wipe down with a damp cloth. As they get larger, they will outgrow their pot so it is important to repot or divide it into another pot. Height Up To 60cm (24in). Spread Up To 60cm (24in). Select from a 9cm or 12cm pot. Please Note: Some houseplants are toxic to pets if ingested, please seek advice from a veterinary professional if you believe it has been consumed. Ensure you take a sample of the plant with you. The size of the plant will differ depending on when in the year it is purchased – visuals are an indication only.