---
Disclosure :
This site contains affiliate links to products. We may receive a commission for purchases made through these links.
---
Begonia Rex-Hybrid Helen Teupel 12cm Pot x 1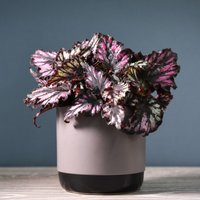 Begonia Rex-Hybrid Helen Teupel A stunning colourful focal point & thrives in kitchens and bathrooms! The Golden Shield Fern is a stunning showcase plant and is bound to be the focal point of any room you put it in. in the right conditions it can grow up to 1m, the foliage will begin with a yellow-green tone to it and get darker green with maturity. Ideal for the more humid rooms of the house such as the bathroom or kitchen as they thrive in a humid atmosphere. As it is fully hardy it can be put outside too. Keep it in the sun or part shade and ensure the soil can drain well after being watered. As it gets bigger repot to ensure it has the room to grow. Feed regularly to aid growth. Height and Spread: 100cm (39) Please Note: Some houseplants are toxic to pets if ingested, please seek advice from a veterinary professional if you believe it has been consumed. Ensure you take a sample of the plant with you. The size of the plant will differ depending on when in the year it is purchased – visuals are an indication only.