---
Disclosure :
This site contains affiliate links to products. We may receive a commission for purchases made through these links.
---
Alocasia amazonica (Elephant Ear Plant) 11cm Pot x 1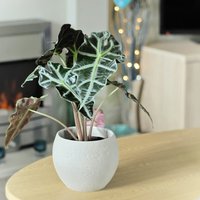 Alocasia amazonica (Elephant Ear Plant) A beautiful focal point in the home! Stunning dark green foliage with silver veins is arrow-shaped with rough edges giving it the Elephant's Ear name. it is a lovely gift and makes a beautiful focal point wherever it goes. It will be best kept in a warm room or conservatory with a constant temperature of over 15C (59F). Keep it out of direct sunlight to avoid any leaf scorching and keep it away from radiators and cold draughts. The Alocasia will need regular watering but should be allowed to dry out between each watering. In the winter reduce this down to avoid the plant becoming waterlogged. Feed regularly between March and September when they are inactive growth. As it is a tropical beauty it will thrive in a humid atmosphere, so place on top of pebbles and water. As the water evaporates this will create the humid atmosphere it loves. Height and spread: 1m (39). Some houseplants are toxic to pets if ingested, please seek advice from a veterinary professional if you believe it has been consumed. Ensure you take a sample of the plant with you. The size of the plant will differ depending on when in the year it is purchased – visuals are an indication only.