---
Disclosure :
This site contains affiliate links to products. We may receive a commission for purchases made through these links.
---
Citrus Tree – Limequat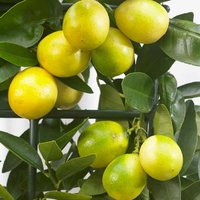 Citrus Tree – Limequat Grow this unique lime/ kumquat crossover in your garden! This unusual citrus is a cross between a key lime and a kumquat. It makes a beautiful conservatory or patio plant, with superbly scented flowers and small edible green fruit, which are rich in vitamin C. It has sweet-tasting skin and bittersweet, lime-flavoured flesh – great sliced or juiced in cocktails! Supplied in a 2.5 litre pot. When planted in a decorative container, this tree will be a real talking point placed in your conservatory. With a beautiful distinctive scent, reminiscent of the Mediterranean what?s not to love about this amazing citrus tree? Who doesn?t love fresh fruit too? Especially something as exotic as the limequat! Fruiting and Pruning Citrus plants are very rewarding to look after, providing endless interest as the small scented white flowers appear in spring, followed by small fruit as the flowers fade. With the correct conditions the fruit will grow steadily over the next six months until they ripen. The fruits can be picked off or left on the tree for ornamental purposes. To encourage a bushy plant and to maintain a good shape, plants can be trimmed just as the new growth starts to sprout in the spring.