---
Disclosure :
This site contains affiliate links to products. We may receive a commission for purchases made through these links.
---
Achillea Plants – Summer Pastels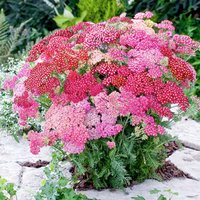 Achillea Plants – Summer Pastels Loved by bees and butterflies The Achillea Plants – Summer Pastels is a dazzling plant that produces very large, beautiful stems filled with flowers. Sitting atop deep green foliage, these stems produce fantastically red and hot pink flowers in a compact and bushy style. The more you look at the Achillea Plants – Summer Pastels, the more of its delightful details you see. Each of the flowers is decorated with a small yellow centre to create a beautiful 'polka dot' aesthetic all over the plant. The Achillea Plants – Summer Pastels will look absolutely amazing planted in your flower beds and flower borders all season long. Flowering from June- September, you can enjoy these fascinating flowers for the whole of Summer. An added bonus is they are very attractive to bees, butterflies and other pollinators, meaning you'll be supporting your local wildlife whilst benefiting from seeing some beautiful creatures in your garden. Having a slightly compact habit and growing to a height of 50- 60cm (20-24") they are absolutely ideal for filling a patio pot or decorative container. Spread them around your patio and watch as they brighten up your garden.