---
Disclosure :
This site contains affiliate links to products. We may receive a commission for purchases made through these links.
---
Hydrangea Three Sisters 2 Litre Pot x 1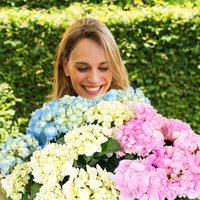 Hydrangea Three Sisters Hydrangea 'Three Sisters' is a fantastic new tricolour variety that boasts three harmonious shades of pastel pink, blue and cream blooms. It forms one neat and compact plant, that is easy to grow, low maintenance, not too fussy and equally eyecatching in the garden. You can enjoy this floral display where space is limited too, as it is an excellent choice for growing in pots and containers. Therefore, this versatile shrub can be placed on the patio in a pot and offer a striking burst of colour, or be planted into small beds and borders in partially shaded areas, bringing them back to life. The large clusters of blooms offer a bright, colourful and exquisite display during both the summer and autumn. The flower heads will gradually turn brown into the autumn season but you can still enjoy their magical frosted charm throughout the winter months too. As years pass by, 'Three Sisters' will become more established and form a neat, rounded shape and show off deep green foliage. When the flowers are looking their best, you can always turn them into beautiful cut flowers, fresh or dried, and place them in a vase in the kitchen and home. Height: 50cm (20"). Spread: 50cm (20").