---
Disclosure :
This site contains affiliate links to products. We may receive a commission for purchases made through these links.
---
Chlorophytum (Spider Plant) Comosum Variegatum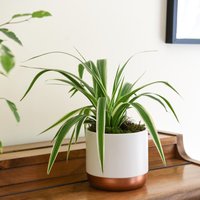 Chlorophytum (Spider Plant) Comosum Variegatum A great beginner houseplant! The ideal houseplant for those who are just starting out! The Spider plant is a popular one too, they are easy to grow and to look after. This wonderful plant gets its name from the 'spiderettes' which hang down from the mother plant, like spiders do on a web. The stunning variegated leaves arch over and as it grows and grows the new baby plants will grow from the tips. With maturity it will even grow beautiful star shaped white flowers. They look stunning in a hanging basket and should be kept in an area with bright light but not in direct sunlight. Ideally in an environment between 15C (60F) to 24C (75F). Ensure to water enough to keep the compost moist, but do not keep in standing water as this can lead to the plant rotting. In winter reduce the amount of watering but do not let it dry out completely. Feed the plant while they are in active growth between March and September. Height and spread: 50cm (20"). Select from either 12cm or 23cm pots. Please Note: Some houseplants are toxic to pets if ingested, please seek advice from a veterinary professional if you believe it has been consumed. Ensure you take a sample of the plant with you. The size of the plant will differ depending on when in the year it is purchased – visuals are an indication only.