---
Disclosure :
This site contains affiliate links to products. We may receive a commission for purchases made through these links.
---
Patio Vegetable Plants – Collection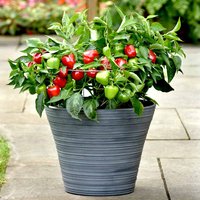 Fresh, tasty vegetables on your doorstep! Fresh, tasty vegetables on your doorstep & patio! All you need to make the perfect ratatouille! Growing delicious vegetables on your patio has never been easier than with our specially selected patio vegetable collection. Comprised of 6 outstanding patio vegetable varieties, all individually labelled: Aubergine Patio Baby, Courgette F1 Astia, Pepper Snackabelle, Chilli Hot Fajita, Tomato Tumbling Bella, Cucumber Patio Snacker. When it comes to growing patio fruit and vegetables, space need not be a problem. Any small sunny deck, patio, backyard or balcony has the potential to produce a tasty and healthy crop. Beyond that the choice is yours. Your pots can be ornamental or simple and of any material that you wish. It is worth bearing in mind at this point that terracotta is likely to dry out quicker than plastic and will require more frequent watering. Most patio fruit and vegetables require a sunny position for best results. Watering is extremely important, keep well watered. Perhaps add some water retaining crystals to the compost before planting. While it won't be necessary to feed short term crops such as Leaf Salad; others such as Beans, Tomatoes and other long term crops will require a weekly feed of a high potash vegetable or tomato fertiliser. Slow Release Fertiliser added to the compost before planting may be an option. Keep your container weed-free as any weeds will steal nutrients from your plants.