---
Disclosure :
This site contains affiliate links to products. We may receive a commission for purchases made through these links.
---
Tomato Plants – F1 Summerlast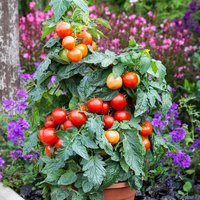 Tomato Plants – F1 Summerlast The dwarf patio tomato that has a big impact! Watch out there's a new variety in town… The F1 Summerlast is the new blight-resistant dawrf tomato that everyone can grow! A first for dwarf patio tomatoes, the Summerlast will harvest stunning fruits in large numbers. Great for growing in small outdoor spaces, on a patio or balcony you will only need a 25 cm (10") pot. These tomato plants have the 'stay-green trait', meaning their leaves won't yellow, plus it is also resistant to TMV. Cropping throughout summer and into autumn, the F1 Summerlast will produce cocktail sized tomatoes, sweeter than other dwarf varieties, great to snack on or reduce for tasty Italian sauces.