---
Disclosure :
This site contains affiliate links to products. We may receive a commission for purchases made through these links.
---
Chilli Pepper Plant – Tabasco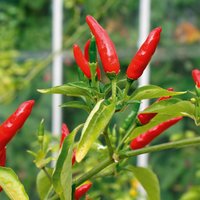 Chilli Pepper Plant – Tabasco This famous chilli pepper reached a fiery 30,000 – 50,000 SHU! The 'Tabasco' is one of the most well-known varieties of chilli peppers. This chilli pepper plant will produce an abundance of upright pods about 4cm long. Ripening from yellow-green to a vivid red this fiery pepper weighs in at an impressive 30,000 – 50,000 SHU. A 'Tabasco's' fiery flavour makes it famously popular for its use in Tabasco sauce, why not try making your own! Supplied in a 10 cm pot your chilli pepper plant will reach heights of 140 – 150 cm and this particular variety will thrive better in a greenhouse or a sunny sheltered spot. Grow this famous chilli pepper from your very own home, a must-have for any keen chilli enthusiast. Caring for your Tabasco Your chilli plant will perform best in a greenhouse but will produce a good crop in a sunny sheltered location outdoors. It is important that you give it time to adjust to its new environment. Check the compost is moist and if required leave the plant to soak in approximately 5mm water for 5-10 minutes or until the top of the compost is damp. Stand the plant in a warm, light, airy place such as a windowsill or conservatory and allow to grow, ensuring that the compost is kept moist. Click here, to find out more about 'Growing Your Chilli Plant'.