---
Disclosure :
This site contains affiliate links to products. We may receive a commission for purchases made through these links.
---
Pea Plants – Blauwschokker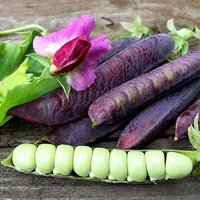 Pea Plants – Blauwschokker Beautiful purple pods that are impossible to miss! Blauwschokker is an amazingly ornamental pea variety. These pea plants will produce lovely purple flowers and dark purple seed pods, grow it in an ornamental veg garden for an eyecatching display. The Blauwschocker would look equally at home in a flower border! Pea plants will produce healthy snacks and even tastier meals. Harvest from June to October, eat them young as mangetout, or leave them to mature and shell them like normal peas. Serve your Blauwschokker peas on a delicious platter with dips or hummus for a healthy snack. It's well worth a try! Alternatively, you can pick from your pea plant to eat raw, steamed or a tasty addition to stir-fries or soups.