---
Disclosure :
This site contains affiliate links to products. We may receive a commission for purchases made through these links.
---
Aubergine Grafted Plant – F1 Scorpio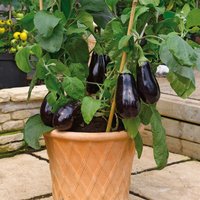 Aubergine Grafted Plant – F1 Scorpio Wouldn?t you love to harvest delicious aubergines 2 months early! The Aubergine F1 Scorpio will produce fine deep purple aubergines. With this outstanding grafted variety you could be picking delicious, top quality, sleek and shiny formed aubergine fruits. The F1 Scorpio will crop 2 months earlier than you might otherwise have done. It?s very easy to grow and very heavy cropping right through to the autumn months. Aubergines are an excellent source of fibre and are deliciously tasty either grilled or fried. Grafted Aubergine Plants are a must-have for any keen grower – You?ll also be safe in the knowledge it?s protected from any attacks of late blight. Click here to read the Aubergine 'Growing Guide'. What?s so good about grafted veg plants?  Grafting onto specific rootstocks, of course, creates bigger, better, more disease-resistant plants with increased yield. Consequently, we believe, the extra vigour which the plant obtains will provide even better protection to late Blight attack, and the plants will grow away from any infection even more rapidly. Grow in the greenhouse or outdoors, little or no heating required. With excellent resistance to soil-borne pest and diseases – No more ring culture or grow bags you simply plant straight in the soil.