---
Disclosure :
This site contains affiliate links to products. We may receive a commission for purchases made through these links.
---
Jacaranda Broccoli Plants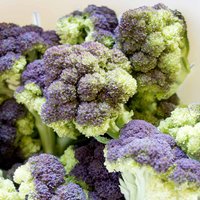 Broccoli Plants – Jacaranda Get the best of both worlds this stunning variety! If you're a fan of growing unique varieties, you'll love the fascinating 'Jacaranda'. A superb mix of broccoli and cauliflower, this Brassica offers the absolute best of both worlds. Displaying stunning purple curds with vivid green creamy stems. The Jacaranda will create eye-catching displays in your vegetable garden or allotment. Harvesting from the spring to the autumn months, the 'Jacaranda' has a deliciously sweet taste that will certainly compliment any meal. Ideal boiled or steamed! But in order to preserve that magnificent purple colour and sweet taste we recommend steaming it. If you can't wait to taste these beautiful brassicas, then they can be eaten raw too!