---
Disclosure :
This site contains affiliate links to products. We may receive a commission for purchases made through these links.
---
Kale Black Plants – Black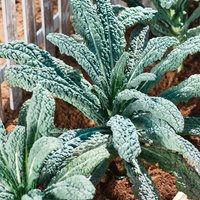 Kale Plants – Black Kale Bred in Britain for the British climate! The kale plant ?Black Kale? is a fairly new variety of Italian black cabbage, this variety is bred to perform better in the UK climate. With improved cold tolerance, colour, leaf shape, and bolt resistance than current Italian varieties. ?Black Kale? makes the perfect addition to any baby leaf salad or stir-fry your leaves with chill and garlic. Kale is packed full of tremendous health benefits such as vital vitamins and powerful antioxidants. A growing amount of evidence shows that kale has compounds such as glucosinolates, which may suppress the development of cancer cells from areas of the body such as the lungs, liver, breast, and stomach! Kale – Black Kale has been tested and has roughly 5 times the amount of glucosinolates than other kale varieties!