---
Disclosure :
This site contains affiliate links to products. We may receive a commission for purchases made through these links.
---
Asparagus Crowns – Guelph Millennium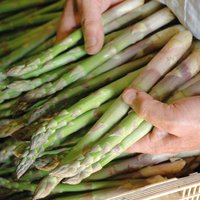 Asparagus Crowns – Guelph Millennium Crops of delicious asparagus tips for the fraction of the supermarket price! The asparagus ?Guelph Millennium? is a late-season variety, bred in Canada. This asparagus plant is at its best in the UK during the month of June. Now considered to be the best late-season cultivar, it's an All-Male hybrid, boasting excellent spear and head quality, combined with fantastic yield. ?Guelph Millennium? asparagus can be added to any of your favourite dishes. Try this delicious vegetable fried in herby, lemon, and garlic butter. Mouth-watering asparagus tips are still considered something of a luxury vegetable, and the supermarkets certainly price them as such! So why not grow your own? The tall foliage is extremely attractive, and the plants can be grown in a large container too! Caring for your Guelph Millennium Asparagus remains productive for up to 20 years, and established beds can be cut from the first spears until mid-late June (after which the attractive ferns should be left to grow). We supply one-year-old crowns, grown in East Anglia, which can be picked the year after planting. Allow 30-40cm (12-18) between crowns. Full growing instructions provided.