---
Disclosure :
This site contains affiliate links to products. We may receive a commission for purchases made through these links.
---
Tomato Plant – Veranda Red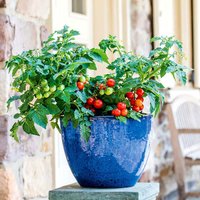 One of the nicest tomato plants for sale at the moment. Ripe fruit (12-16g fruit) very early (mid July) so you won't have to wait too long for beautiful, tasty cherry-sized tomatoes. With the added bonus of some blight resistance and resistance to fusarium and verticillium, this plant is easy to grow and maintain. How do I grow tomato plants? Growing your own is more than just being self-sufficient. It's about growing varieties that are not readily available in shops and supermarkets, varieties that may not lend themselves to being produced on a mass commercial scale, but ones that taste amazing. More information here Here's some helpful information on how to grow tomato plants. Plant firmly, placing the ball of roots and soil about 25mm (1″) below the surface of the fresh compost. In beds or border, space the plants about 45cm (18″) apart, with rather wider spacing between the rows. Plants in pots will eventually need more water than those in the border, but the soil must never become waterlogged. Tomato Plant Care Once flowers begin to appear, the plants should be fed with a liquid tomato fertilizer at the recommended rate weekly. The growing point should be removed when five or six trusses have formed, as this will encourage the fruits to swell more rapidly and mature more quickly. Keep the plants well-watered, especially when the fruits have started to set. Wide fluctuations in moisture supply may lead to irregular fruit growth, cracking of the skin, and dropping of the fruits.