---
Disclosure :
This site contains affiliate links to products. We may receive a commission for purchases made through these links.
---
Cornus Eddies White Wonder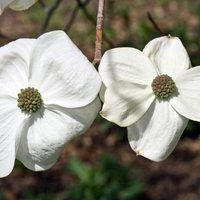 Cornus ?Eddie?s White Wonder? – Dogwood ?Eddie?s White Wonder? is a superb specimen shrub, it is rounded, tree-forming and produces multisets of broad stems. It spreads to 5m and grows to a fantastic height of 6m! Cornus ?Eddie?s White Wonder? blooms from late Spring until July, its flowers have large white showy bracts with tiny green-purple centres. Easy to care for, this variety of Dogwood grows best in direct sun with partial shade. ?Eddie?s White Wonder? has deep green glossy foliage, it contrasts excellently against its wide creamy petals. As the Autumn begins its leaflets start to turn a range of roaring fire colours, shades of burnt orange, deep crimson red and a popping purple – this will add a long season of garden interest.