---
Disclosure :
This site contains affiliate links to products. We may receive a commission for purchases made through these links.
---
Cornus sanguinea Plant – 'Anny's Winter Orange'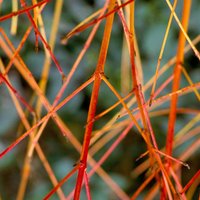 Arguably one of the best Cornus for winter stem colour with its bright and vivid stems of orange and red that stand out in any situation. The colour of the stem changes as it goes up the stem from yellow at the base, through orange and then a bright red near the tips. It looks stunning whether planted on its own or as a spectacle in groups. Other varieties produce similar colours but none seem to have the same vigour and intensity .as this one and often appear a little weak so this is sure one of the best. To make the display even better, prune each stem hard, back to a few inches at the end of the winter or after flowering as the new growth will produce the best colours in the following winter. The soft green leaves in the summer also add to the occasion in autumn as they turn to lovely shades of orange and yellow. Clusters of white flowers are also produced during spring. Flowers March-April. Height 201-250cm; spread 201-250cm+.