---
Disclosure :
This site contains affiliate links to products. We may receive a commission for purchases made through these links.
---
Crassula Ovata 12cm Pot x 1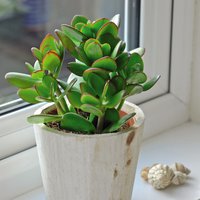 Crassula Ovata Also known as 'Jade Plant' or 'Money Plant'! Crassula Ovata well-known as the Jade plant or Money plant and is an easy-to-care and low maintenance house plant. It has glossy, fleshy leaves and thrives in a full sun position. However, it can also grow in a shady corner and the foliage will darken. The ideal plant, for time-restricted or perhaps forgetful folks as these succulents really are low maintenance indoor gardening. Height: 200cm (79) Spread: 125cm (49). Grow Crassula in full light with some shelter from the direct sunlight as this may scorch the plant. An average temperature of 10- 23C (50-75F) is perfect. Water Crassula whenever necessary, ensuring the soil can dry out after each watering. As it is a succulent, they store water in their leaves so they use surprisingly little water during the hot summer months. House plants feed regularly between March and September when they are inactive growth. Reduce watering in winter. Please note: Some houseplants are toxic to pets if ingested, please seek advice from a veterinary professional if you believe it has been consumed. Ensure you take a sample of the plant with you. The size of the plant will differ depending on when in the year it is purchased – visuals are an indication only.