---
Disclosure :
This site contains affiliate links to products. We may receive a commission for purchases made through these links.
---
Crocosmia Collection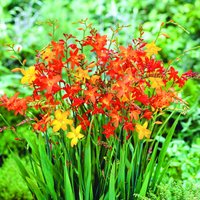 Crocosmias are resilient perennials providing vibrant colour from mid-summer onwards with their funnel-shaped blooms on elegantly arching stems. They quickly bulk up to form swathes of bold colour in mixed borders whilst providing dynamic foliage interest with their upright, strap-shaped leaves. Our Crocosmia Collection includes the must-have varieties of this easy-to-grow perennial in vivid shades of red, orange, and yellow.Crocosmia Collection comprises 3 x 9cm plants, one of each of the following varieties: Crocosmia 'Harlequin' – a striking addition to a hot colour scheme. Its dark stems bear racemes of starry, funnel-shaped flowers with a golden yellow throat and alternating orange and red shades on the reverse of the petals. Height: 60cm (24"). Spread: 10cm (4").Crocosmia 'Walberton Scarlet' – large, tomato-red, funnel shaped flowers held in arching racemes. Height: 75cm (29"). Spread: 10cm (4").Crocosmia 'Firestarter' – golden yellow blooms, each with a bright orange margin. Height: 75cm (29). Spread: 10cm (14).Plant height and spread is seasonal therefore we list by pot size rather than a defined plant size. The height and spread of the plant delivered will vary depending on the season, meaning arrival images are an indication only.