---
Disclosure :
This site contains affiliate links to products. We may receive a commission for purchases made through these links.
---
Coir Compact Planting Soil x 10 Litre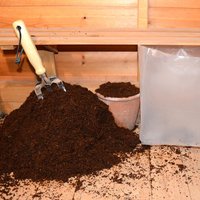 Makes carrying heavy compost bags a thing of the past! Just open up the bag and add 3 litres of water to create 10 litres of eco-friendly, 100% peat-free seed and potting compost! Produced from coconut husks, the coir expands, when water is added, to create an excellent quality compost with a soft and fluffy texture; and a 20-20-20 fertiliser has also been added to help get your plants off to a great start! Coir also has the added benefits that: It doesn't make your hands dirty like traditional peat composts It retains water well, whilst excess water drains away, helping to avoid waterlogging It distributes water well within the root ball, for improved root systems and therefore healthier plants! Go on – wave goodbye to lugging heavy bags of compost around the garden, and give our easy-to-use coir compost a try!