---
Disclosure :
This site contains affiliate links to products. We may receive a commission for purchases made through these links.
---
Fig Plant – Panachee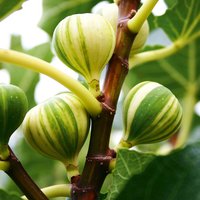 This prolific-cropping variety, though it's been in cultivation since 1668, is something quite unusual, boasting high quality, deliciously sweet fruit with a unique variegated colouration that is certain to make it one of the most talked about items in your garden and your fruit bowl! Supplied in a 3 litre pot. Figs will bring a Mediterranean flavour to your garden, combining handsome foliage with a tasty and bountiful harvest. They're vigorous plants, so growth should be limited by restricting the roots to a large container (which will also encourage fruit formation). Alternatively they can easily be trained on a wall and pruned to fit the required space. These four varieties are strong-growing and quick to start fruiting and, once mature, will withstand the coldest winters.