---
Disclosure :
This site contains affiliate links to products. We may receive a commission for purchases made through these links.
---
Melon Grafted Plant – Anasta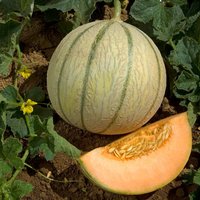 Their origin can be traced back to the pontifical fruit gardens of Avignon. The mid-sized round fruits boast delicious, juicy and sugar-sweet flesh which is sunset yellow/orange in colour. Charentais-melons indicate by their fragrance when they are ripe and can be harvested. They emit a beautifully fruity perfume letting you know they are ripe and ready to harvest. Grafted 'Anasta' plants grow very fast and do not only grow in greenhouses and tunnels but will even grow in sunny and sheltered places in the garden or on a patio. Good resistance to powdery mildew.