---
Disclosure :
This site contains affiliate links to products. We may receive a commission for purchases made through these links.
---
Polianthes tuberosa Pink Sapphire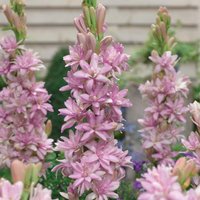 Polianthes tuberosa 'Pink Sapphire' The Tuberose has long been admired for its exquisite, rich perfume. Until recently, only white cultivars were available, but Polianthes tuberosa 'Pink Sapphire' marks a real breeding breakthrough. Rose pink blooms with fully double petals are carried in stocky flower spikes that make astonishing cut flowers. This half hardy tuberous perennial is perfect for growing in containers on a sunny patio, where its fragrance can be enjoyed on warm summer evenings. Polianthes tuberosa requires a minimum temperature of 15°C (59°F), so be sure to move them indoors over winter for another beguiling display next year. Height: 120cm (48). Spread: 15cm (6).