---
Disclosure :
This site contains affiliate links to products. We may receive a commission for purchases made through these links.
---
Peony Double Collection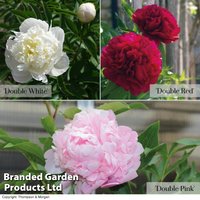 The most glamorous of all garden perennials, Peonies bring an aura of heady romance into late spring and early summer borders with their huge, luxurious blooms and sweet fragrance. Despite their aristocratic looks, they are easy to grow, even coping with heavy clay soils. They are also one of the longest lived of all flowering perennials, slowly growing into generous clumps which not only bear impressive blooms but are graced with handsome, dissected foliage. Fitting equally well into informal cottage style gardens or paired with roses and lavenders in more formal, classic schemes, there is a place for peonies in every garden. Their long vase life also makes them ideal candidates as cut flowers.Peony Double Collection brings together our most flamboyant of double types in white, pink and deep red. Each variety bears plump, petal-packed buds unfurling in early summer into large, silky, ruffled blooms. Peony Double Collection comprises 3 x 9cm plants, one of each of the following varieties: Peony 'Double White' – Classic pure whitePeony 'Double Pink' – Delicate, sugar pinkPeony 'Double Red' – Romantic, ruby-red For all varieties: Height: 90cm (35"). Spread: 90cm (35"). Plant height and spread is seasonal therefore we list by pot size rather than a defined plant size. The height and spread of the plant delivered will vary depending on the season, meaning arrival images are an indication only.